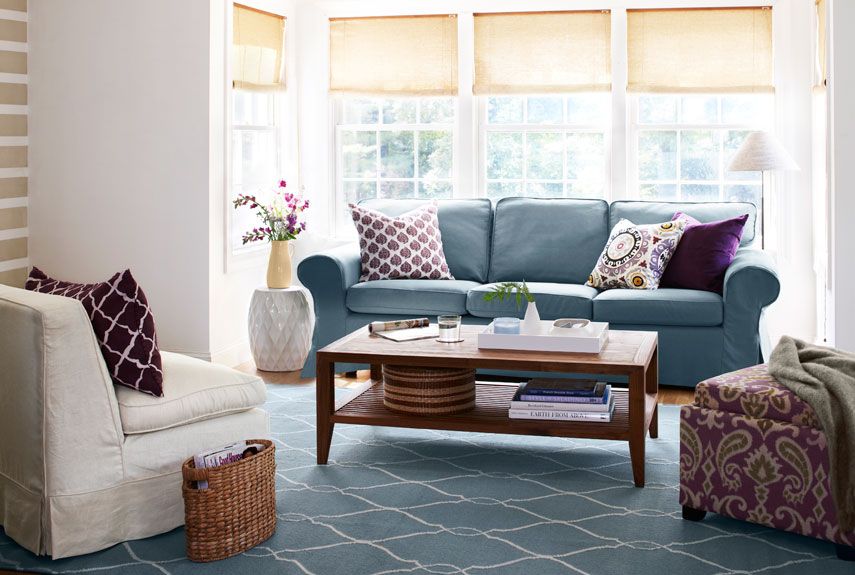 The Living Room is perhaps the heart of your home, from your family games to a host of other social activities within your home it is where the most people gather to enjoy themselves. If you want to make it more welcoming, the best thing you can do is to place the elements in a proper and refreshing manner. Furniture would be the most important of these requirements. You need to take care of a complete arrangement based on a wide range of options. Here are a few tips you can give a thought to.
Best Living Room Furniture Ideas – Make it a complete Home
Your living room has several elements that make it complete. We will check out each of the items one by one and how you can arrange them. Let us check out the options you can employ for an outstanding look for your living room with a proper furniture arrangement and procurement.
1. Make them a pair
Things look good in pairs, and that applies to furniture as well. This will help you a get a symmetrical look for your living room. You can get two symmetrical pairs of chairs and arrange them to give a great and welcoming look to your living room.
You can make use of the statement chairs for an added impression. If you are in Virginia, we would recommend opting for  Good Wood Furniture Virginia for the best shopping experience. Goodwood Furniture is indeed a premium source for quality furniture for your living room. They specialize in finished to unfinished wooden living room furniture.
2. A Flexible Layout
Like we have previously stated, the living room is the hub for all your social activities. That would ideally mean the exact arrangement would change depending upon the type of guests involved or the activity you have taken up.
From that perspective, your living room furniture arrangement should be flexible to a great extent. In fact, other than the needs of your guests, frequent rearrangement possibilities for your living room should help you have a refreshing environment than having the same arrangement ever since you shifted into the new home! Get rid of the monotony with the arrangement that allows occasional rearrangement.
3. Use Mirrors as an Art Form
Mirrors serve a wide range of purposes. Of course, they help you add glamour to your room, but also – they double up as an excellent means to provide an opulence to your interior design. They can even improve the sense of space and thus can be the best option for the smaller living rooms.
Mirrors were initially used for their functional value, but now they have begun to find an extra usage as the best options as an art piece. Just the way you use wallpapers or artwork, mirrors can also improve the glamour quotient of your living room if arranged at strategic locations.
4. Leave the Walls to Their Own
Yes, don't stick like a magnet to the wall. What we mean by that is to arrange the chairs and other seating arrangements away from the wall. This will provide a decent look for the guests and their seating.
In fact, sticking the furniture to the walls makes the guests appear to be sitting in different corners of the world and conversing with one another. Apart from helping you have a natural conversation so that you can communicate physically as well, the arrangement also helps you avoid the center of the living room look as an empty void.
5. Make your Living Room have Multiple Functions
Most of our living rooms are used for entertaining guests and of course, watching the TV. How about breaking out from the traditional convention and let your living room be something else? This will perhaps give a new understanding to the room and its whereabouts.
If your living room is good enough in terms of size, you can consider adding a few pieces and use it for other functionalities. A couple of chairs and a coffee table can make it an alternative dining room as well. Or maybe you can convert a part of it into a small office without having to look out of place. Arrange the furniture and other elements in a flexible manner without having to make them look odd.
Those were just a few options you can give a try to improve the look and appearance of your living room and make it more appealing. The crux of the matter is you should not look at the furniture as a non-living facilitator, but arranging them as if they are an essential part of your living room can have a lasting effect on how impressive it can look.
Not that these ideas constitute the whole spectrum of the ideas you have for living room furniture arrangement. If this can inculcate an interest in you, that would be more than enough in making you a connoisseur in terms of furniture and the associated artistic nature of it.